Eskom is a state owned enterprise in South Africa and is involved in the electricity supply industry from generation, transmission through to distribution and sales. Eskom's Duvha Power Station is situated in Witbank, Mpumalanga, and is one of the 11 Base Load Stations with an installed capacity of 3,600 MW with an average production of 22,798 GWh over the last three years.

The challenge:
The energy produced should be accurately and reliably measured and reported on and all metering data should be auditable and comply with regulatory requirements. Eskom employs metering, measurement and an EMDAS (Energy Metering and Data Acquisition System) at the generation plants to fulfill this requirement.
Each power station has its own individual needs as there may be legacy equipment and systems already in place. It may not be in the plant's best interest to replace all legacy devices and several aspects should be reviewed for the change-over process and requirements between systems. Topics for consideration include:
New EMDAS Eskom Standard
Metering best practices
Bus communication architecture
Equipment life expectancy
Effective use of available equipment and infrastructure
Outage schedules for installation of new equipment
IT/OT Interfacing
System Ownership within Eskom
Duvha Power Station had an outdated EMDAS, including the metering and measurement equipment. The system had to be upgraded according to the latest architecture and guidelines within Eskom.
Challenges and limitations discovered during the project implementation included lack of updated documentation, risks associated with the integration of existing hardware pulses and the temporary use of hardware for interfacing to legacy hardwired systems for the duration of the change-over process.
The solution:
iST (Integrators of Systems Technology) offered Duvha Power Station an EMDAS covering both historical data reporting and real-time visualisation of power generated or consumed in the plant. This solution had been designed around the metering best practices accumulated in iST's experience in metering of over 30 years in this specialised field.
Our device agnostic approach and integration skillsets enable us to directly interface to a variety of metering devices or other 3rd party systems, depending on the best-fit solution for the client. Our current supported device list is provided below and new device drivers are added as their market uptake viably increases:
Actaris
Blue Star A2000
EDMI Meter
Elster Kent (A1700 & A1140 & AS1440 & A1160 & Waveflow)
Energy Intellect VM Series
Enermax & Enermax+
GE SM Series
Landis & Gyr
Power Logic ION
Premier
Iskra (MT372 & MT831)
SEL734
Schneider PM3000 Series
Synapses LM1AMR
Unitrack DM50
Due to the age of the hardware at Duvha it was required to redesign the metering and measurement systems in conjunction with the new EMDAS for Units 1 to 6, station boards, HV Yard and other supplies at Duvha Power Station.
iST's EMDAS solution at Duvha consists of two identical servers, both loaded with the same software packages namely ecWIN™ and Schneider Electric's Struxureware Power Monitoring Expert. A third server acts as a Data Server pushing data to Eskom's Phoenix system for visibility at National Control from where the electrical network is managed. This server is located in a protected network as depicted in figure below. The challenges and limitations mentioned previously motivated the decision to deploy the new EMDAS with a file exchange interface to the old EMDAS.
Each of the EMDAS servers acts independently to provide fully redundant system operation. In the event of one server failing, the EMDAS system as a whole will remain operational. The software from both servers will simultaneously connect to the meters to collect the real-time and logged data via Ethernet and RS485. This implementation of communication redundancy has been possible through the use of advanced power metering product, namely the ION8800 meter. Where existing hardware is utilized, the communication architecture restrictions should be considered.
The result:
The solution deployed addressed the requirements for an EMDAS system applying the latest available technology and future proofing the EMDAS system at Duvha.
The picture below shows the real-time monitoring for each unit and Station Boards, including single line diagrams with power, voltage, currents and power factors from each metering point.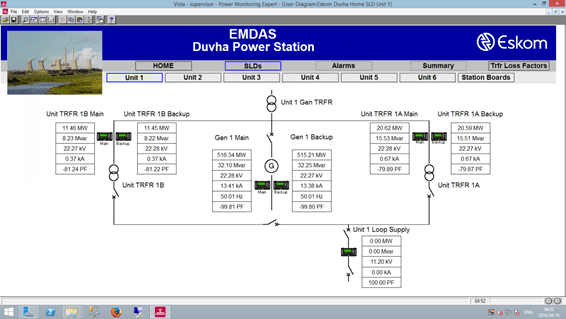 The picture below shows the real-time reading accuracy comparisons. The analogue transducers are utilised for control and should be verified to timeously identify any possible corrective actions required.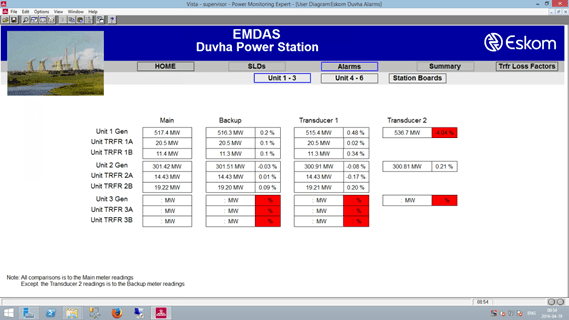 Want your business to achieve success?
Contact us using the form below and a consultant will get back to you shortly.