eThekwini Integrated Protection & Control
eThekwini Municipality is a Category A municipality found in the South African province of KwaZulu-Natal. The area is topographically hilly, with many gorges and ravines, and almost no true coastal plain. Durban has a turbulent history dating from ivory hunters in the 1820s and their conflict with the local Zulu monarchs.
By 2030 eThekwini Municipality will enjoy the reputation of being Africa's most caring and liveable City, where all citizens live in harmony.
Their core values include:
Sustainability
Economically successful city
Caring city
Smart city
Poverty reduction and Democratic & Equal city
The challenge:
eThekwini Municipality had the need to upgrade and refurbish their existing 132/11kV substations to IEC 61850 compliance. This included the upgrade of various IEDs to IEC 61850 to perform both protection and control.
The solution:
iST was tasked with the supply, delivery, installation and testing of protection and control equipment as well as the testing and commissioning of associated electrical plants for various 132/11kV substations and switchyards in eThekwini Electricity.
This included:
Integration of IEC 61850 RTUs
Substation local area network (LAN) using optical fibre for inter-panel communication and applying the parallel redundancy protocol to achieve complete communication redundancy
New human-machine interface (HMIs) combining supervisory control and data acquisition (SCADA) and data gateway functionality to the network control centre
The result:
A fully integrated protection and control system was delivered to eThekwini allowing for the operators to control, monitor and perform substation interlocking using the IEC61850 communication protocol over fibre optic networks. Other benefits include remote engineering access to every protection or SCADA equipment in the substations from the eThekwini Engineering offices.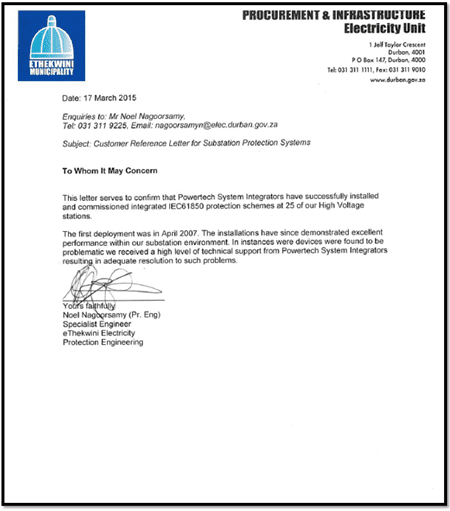 "The first deployment was in April 2007. The installations have since demonstrated excellent performance within our substation environment. In instances were devices were found to be problematic we received a high level of technical support from IST resulting in adequate resolution to such problems"
- Noel Nagoorsamy (Pr. Eng) Specialist engineer, eThekwini Electricity.
Want your business to achieve success?
Contact us using the form below and a consultant will get back to you shortly.